A few nights ago, I took a trip down memory lane and re-watched
Pinocchio's Revenge
. I had seen this movie back in the late 90s when I used to rent a lot of my movies from Hollywood Video. Then, I wasn't too afraid of this movie and I thought it was entertaining but I after seeing it again after all those years I found myself enjoying it for it's cheese value. It's not a good movie but it's entertaining. What I did notice was how much it borrows from the
Child's Play
movies. Although this post may come off as saying that
Pinocchio's Revenge
is subpar as compared to
Child's Play
, I want to state that my comparing and contrasting is due to my realization that
Pinocchio's Revenge
is a second rate
Child's Play
.
Chucky:
First off, I know his real name is Charles Lee Ray. Now, here is why I think the doll worked for
Child's Play
but why it failed to deliver for
Pinocchio's Revenge
. The main reason why Chucky is so creepy is because he was based off of the scary looking My Buddy dolls and in the film they are called Good Guy dolls. The other reason why Child's Play delivers the scares is because of the brutality of Chucky and that he is way more lethal. You never actually see Chucky kill people but you see POV shots of him running around and you see his hands holding the knife, but it's almost as though it's keeping you in anticipation before you actually see him kill.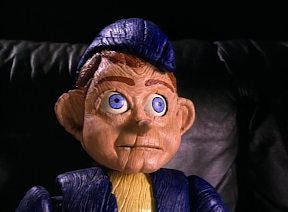 Pinocchio:
I guess for me, when it came to Pinocchio, seeing that doll going around killing people wasn't really scary because it's hard to convince me that the doll was scary. It looked more childish than funny and even after you see the doll animated it wasn't really scary, it just looked cheesy. Pinocchio wasn't really brutal at all, in fact he killed two people and only one was with a fire poker. The whole thing just didn't seem as violent as Chucky can get.
Pinocchio's Revenge
also is lacking in the suspense that
Child's Play
has, you see Pinocchio running around and it doesn't really offer the audience anticipation so when you finally see Pinocchio… it's like we already saw him. It's anticlimactic.
I think that
Pinocchio's Revenge
is an entertaining movie but unfortunately it comes off as a poor man's
Child's Play
and I think that is it's main problem. Although just because it is a second rate Chucky movie doesn't mean that it should be watched for cheese value. In my opinion, it was hard not to compare this to the Chucky films because I saw a lot of similarities. What baffles me is: what exactly did Pinocchio get revenge on?